At all times and in any endeavour, there were people whose life experience became a "textbook" for others. Our objective is to look at the secret of success in their way of thinking, behavior, life strategy, intuitively knowing that somewhere in the depth of this is hidden the "golden key" to their own victories. ,Constantine K., a new trading hero, shares the secrets of his life strategies.
The 25-year-old entrepreneur from Almaty became a very wealthy man, trading in AMarkets. A life story about a profit of $ 200,000, from a deposit of $ 1000. The monthly profit of Constantine was more than $ 200,000, with minimal trading experience!
Historical overview. For comparison, the world trading guru, Larry Williams became famous for winning the Robbins World Cup, having increased initial deposit 114 times, turning the starting $ 10,000 into $ 1,100,000.
Constantin visited us in the AMarkets office in Almaty and told his unique story of how he became rich in such a short time.
— Every story has a beginning. Please tell us where you started.
— My first encounter with forex trading was in 2011. Then, it was very negative. I lost lost my money and forgot about this kind of earning for a while.
In the autumn of 2017, everything changed! I became interested in the cryptocurrency market and began to look for opportunities to make money in it. I had an initial capital, with which I entered the crypto market. Then I looked for ways to trade other instruments. I traded bitcoin and several crypto pairs, as well as shares. I am well versed in shares, and the main profit I have is from this.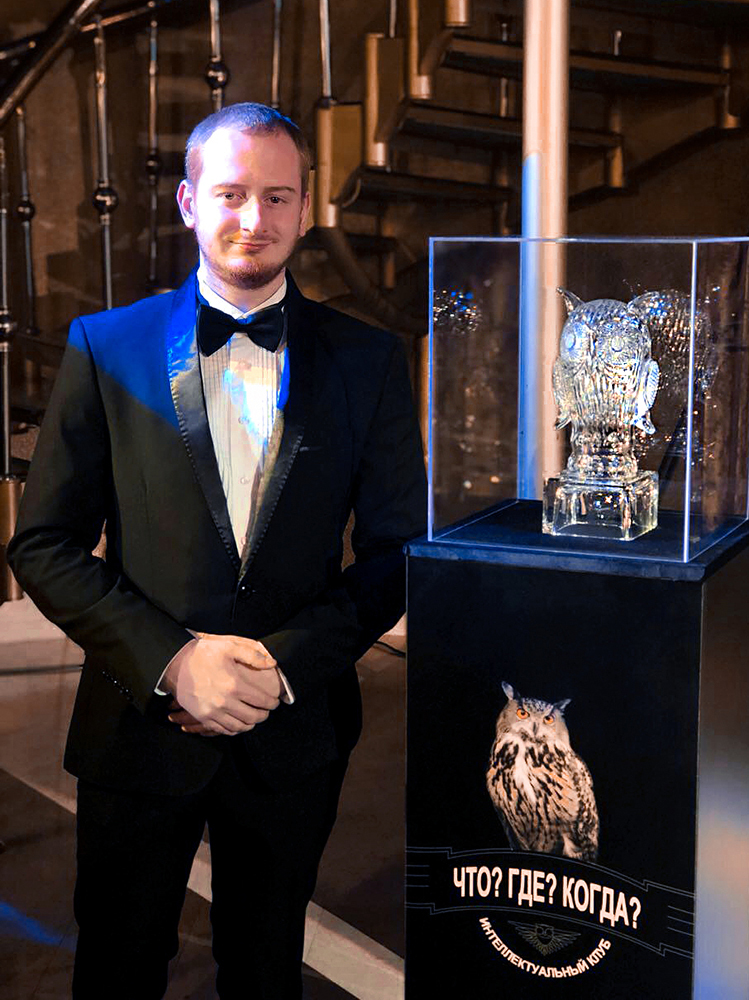 Before I achieved my results, I studied for a long time. Starting September, I read something new everyday. Basically, I chose AMarkets after studying all the brokers for a week. I really didn't want to repeat the first negative experience I had. I signed up for "Insider", a news magazine, in which I saw several articles about AMarkets. That was where I first learned about the company. I had a goal to get the right company the first time and just trade and trade, without running around! I work on the same principle in the flower business – I build long-term relationships with particular suppliers.
In September when I decided to register an account, I needed a broker who would give me the opportunity to earn in crypto. At that time, there were about thirty or twenty-five. I studied websites, got acquainted with analysts, searched for independent reviews – they helped me the most. When you read a review, you can immediately see whether it is paid or not. It is obvious when a person writes from the heart, just as we are talking now.
— Constantine, you were one of the most profitable traders in December in the world. Please share your feelings. Did you expect this result?
— Business people always set clear goals for themselves, trading included. When I made my first 1000 dollars in my business, I thought, " wow! This is cool!". With time, my business grew and a started to bring in steady income. This amount then ceased to be so huge.
Society is divided into classes: upper, middle, poor. I see myself as middle class, and I did not have enough resources to be an upper class on profitability. Trading has given me the opportunity to rise to this stage. The week in which I received the first profit was a week of successful trades for me. I then came to an understanding that if it worked out once, then my strategy works, and my income is real.
Getting to a new level, I understood that I liked it, and I set a new target for myself, which required additional knowledge and experience. We need to sharpen your skills in everything you did not do, and I think my new target is not far off.
— Do you remember that adrenaline moment when your trade brought you the first heavyweight profit?
— Of course. I made one of the first serious profits in Litecoin/Dollar trade. I was at it for long, studying the graphs and behavior of this cryptocurrency. I went into the trade perfectly, buying the currency on rollback. Then, there was no strong emotional outburst, so I closed the trade with a not very big, but significant plus.
Later, I had to open a few more trades, and closing them was very difficult – the profit was great and it always seemed that "just one more, a little bit more and i'll close it!"


---
With a high profit, there is always greed to get out of the trade, so it's better to immediately adopt a strategy – you will not earn all the money, but you will still be in the black.

---
Though there were also such situations when growth was sharp, and it was necessary to act only on a situation.
— Did you, probably, run immediately to your friends to share your joy?
— As a matter of fact, I kept quiet for three or four days, but as soon as I was asked – "How is the trading going?", I immediately told everything :). Of course, money likes silence, and you need to try to talk less about it. Let only the close people know about it.
— Now banks are trying to control the movement of large sums. How did you withdraw the money?
— In our country, there is currency control, which does not allow you to withdraw money above a certain amount. I took out $ 20,000 for the time being; I do not see any point in taking out more. A large sum gives me, as an investor, great opportunities. When there are 10 or 100 thousand dollars – the trading amount is different. Plus, thanks to AMarkets letting you trade with leverage, although without it, the risks are less, but the profit is not high.
I am fortunate that the company has an office in Almaty. I went there to get acquainted, because the company is one hundred percent participant in my earnings. Eugenia, the branch director, arranged for us a Skype conference with the management – it's very nice. It's nice that the leaders themselves appreciated my results.
To withdraw money further, I needed an agreement with the company, since without it, I cannot withdraw no more than $ 10,000.At the bank, they looked at me sideways. Our country is not very financially literate in terms of brokerage operations and investments, so it was difficult to explain to the workers what the Forex market is (laughs).
So, there was no agreement, and the money lay in transit account. I had to go to the bank each time, write an application, and transfer a small amount to my personal account….this is all bureaucracy. It is totally inconvenient. It is better to sort out the agreement earlier.
By the way, the feature of easy fund withdrawal was one of the most important criteria in choosing a company. I heard that there are many people in forex, who just "threw in" , money but could never get out even the least amount.
— What led you to success? Life principles, upbringing, philosophy?
— My life's view is this: if it's hard now, then it will be much easier later. Efforts that we are applying now will pay us back three times more, and this principle has not failed me yet.
I started with $ 1000 in trading, and on the first day, I earned 35%. Then I fell strongly in the red, then in the black, then again in the red. As a result, I came to the margin call. I did not close the trade on bitcoin, and I had the strongest drawdown on the deposit … There were two choices: to give up all this, or try again; but to delve into it with the head? Then I chose the second. I'd better put it in now, but I'll get much more out of it. So I replenished another $ 500 and started climbing.
My business is also associated with risks, because we work with perishables and on festivities, we need to guess what volumes we can sell, and how many to order. In some ways, this is like trading … but the figures are slightly different.
And trading is not subject to the influence of other people. It is important for me that I make my own decisions and be responsible for the consequences. In a live business, it's different, there's a string of chains and everything depends on third parties. In the trading chain there are no string chains – I am my only hope; I decide whether to open a position or not, whether this or that action will hit, or will not hit.
— And your loved ones? Do they support you in this matter?
— I don't have a family of my own yet. I live with my mother. I have a girlfriend, she's my partner, and she supports me in everything, and keeps track of my achievements.
I also have a friend, who got interested in markets after seeing my results – this is pleasant! As a whole, my loved ones are supportive.
Some people have a stereotype that those who make big money – either steal or are involved in some kind of fraud. Me, as a person engaged in business, hold different views. I know that you can earn a lot of money honestly.
— A high bar is taken, what next? Do you continue to trade?
— Yes. As a result, which was reached in December, I will not stop, my goal is different, and it is much higher. The goal is clear – it's six zeros. Million!
Now I spend more time trading: I read articles devoted to Forex, stocks, cryptocurrency; I study technical and fundamental analysis. The technical analysis is suitable for everything: for stocks, and for cryptocurrencies. The market moves along one of the indicators and signals. You only need to know which of them are profitable.
It is important to understand what exactly a person expects from trading and investment. For example, I like volatile trading tools that allow you to earn enough with a relatively small amount. Others adhere to more conservative strategies – they put $ 10,000 on the account, take a single position, and wait until it shoots 10% … I'm more interested in a risky approach.
— Those who are going to trade have a stereotype that for a good profit you need to devote a lot of time to trading. When did you manage, with your business?
— I do business every day for 4-5 hours, plus evening calls. In the evening, I spend time, sometimes late, to read and study materials on trading, while simultaneously dealing directly with trade. 5-7 hours a day steadily goes to Forex. On my instruments, it starts at 8.30 (the American market opens at 8.30), and goes into the night. Before this time, you need to have time to look at some news: which companies are in the black, which are in the red, what volatility.
I am trading cryptocurrency around the clock. This market is more volatile by the evening; when Asia wakes up, the volume of trading rises. Every trading tool requires its own approach!
Another 2-3 hours are spent watching training materials on trading indicators, accelerators, which I should be able to adjust by myself.
In order to productively trade, you need to develop your knowledge productively. As one person said: "It does not matter how much you work, show what you earned."
— Perhaps everyone is curious, how did you spent the money you made?
— I used the first money I took out on New Year's Eve to buy gifts for close one. I bought one close friend who went to the US a birthday present. Part of the profit, I spent on cryptocurrency and funded my wallet. The rest of the money I leave in trading. Later, I will take out another portion to go on a vacation.
— And finally, your advice to beginning traders.
— You have to try. Try, and even if you make a mistake, look at the mistakes, analyse it, and move on. It's much better than watching and getting upset after a year because you did not start. Money comes and goes, but experience is for life – it is the most valuable and most important.. Experience – is always useful anyway. Even if not now, then in 5-6 years … I decided: better to try now, than later regret idleness, while others have achieved something.
And still, I think that by my example I showed that a small deposit can give a decent profit. People have mistaken mindsets that they need 10 or 100 thousand dollars to earn. In fact, you can start with 100 and 500! It just takes more time, but it will work out!
Well, we have to look for HYIP possibilities. I caught a HYIP in the market of Cryptocurrency. I studied this subject for long, and I just didn't get to it out of the blue. In all things, it is important to raise the level of your knowledge and approach trading professionally. If you do something, then it's good.